ABOUT US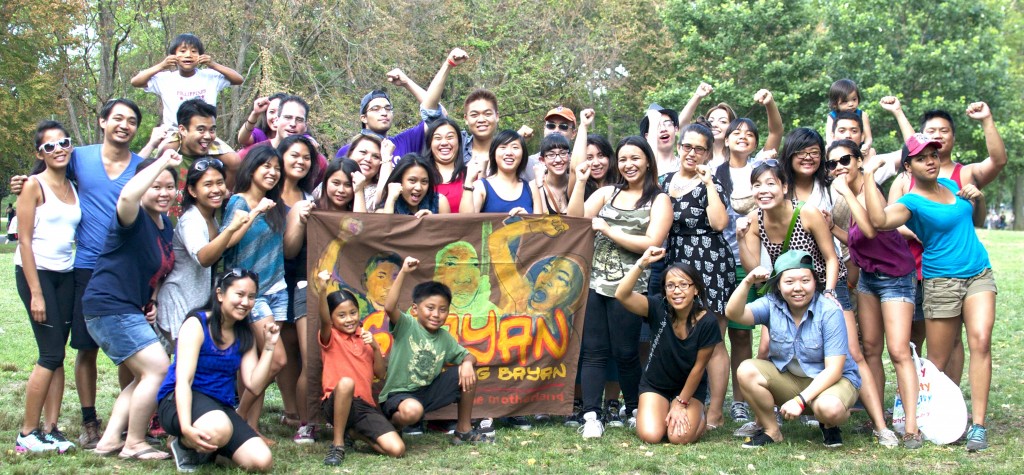 Ugnayan Youth for Justice and Social Change (Ugnayan Youth) is a comprehensive grassroots organization of Filipino/Filipino American youth based in New York and New Jersey. Through collective leadership, progressive culture and community engagement, we strive to reclaim and re-root to the true history of the Filipino/Filipino-American people to better understand how our local and personal issues and struggles are interconnected. We contribute to various movements for justice, peace, and genuine liberation of the Filipino people wheresoever we may call home and build our community.
Our Mission
Ugnayan unites young people of Filipino heritage to transform society through critical education, community research and grassroots collective action.
Our Vision
Ugnayan envisions that all young people are valued as empowered, conscious, and key community members who dare to struggle for justice and social change.
Our History

Realizing that Filipino youth in the US share many common problems and issues, Ugnayan was first formed as a project within the Network in Solidarity with the People of the Philippines (NISPOP) in 2003. The collective (photo above, August 2004, Quezon City, Philippines) returned to the Philippines for an immersion trip in 2004 exposing them to the marginalized sectors of Philippine society – youth, workers, peasants, and women. Inspired by the trip, they visualized the strategic importance of a grassroots Filipino youth organization in the US as a potent force for change. The initiative to form Ugnayan as an independent youth organization happened on November 30, birthday of Andres Bonifacio, leader of the 1896 Philippine Revolution against Spain. A few months later, with the assistance of NISOP and Damayan Migrant Workers Association, Ugnayan ng mga Anak ng Bayan was founded as an independent grassroots organization on November 31, 2004 by eight im/migrant and US-born women of Philippine ancestry.
In March 2014, Ugnayan came full circle as it prepares to celebrate 10 years in November. During a Membership General Assembly, members voted to recommit to building the movement of and for young people of Philippine ancestry. Formerly known as Ugnayan ng mga Anak ng Bayan / Linking the Children of the Motherland, members adopted a new name: Ugnayan Youth for Justice and Social Change. The change in organizational name captures the values of Ugnayan to chart a new path, a revolutionary path for generations to come.
STAFF & BOARD OF DIRECTORS
Ana Liza Caballes
Name: Ana Liza Caballes
Title: Overall Organizer
Ethnicity: Filipina
Gender: Female
Staff: Overall Organizer/h4>
Ana Liza Caballes is a queer, feminist, Pinay activist and community organizer. She was born in the Philippines, migrated to Los Angeles at the age of eight and was transplanted to New York City to major in Women's Studies in Barnard College. At the age of 19, Ana Liza was drawn to building with the working class Filipinos, beyond the isolation of Columbia University's iron gates. She paved a path towards social justice as a lead organizer for the Filipino Organization for Women's Advancement, Rights and Dignity (FORWARD) and the first Program Director for Philippine Forum's Youth Initiative for Social Action (Youth in Action) through the NYC Public Ally Program. She has organized with the Network in Solidarity with the People of the Philippines and participated in the International Solidarity Mission in 2002, which addressed human rights violations in the Philippines. From 2002-2010, she initially served as a volunteer and then became a staff member as the Overall Coordinator for DAMAYAN Migrant Workers Association—the only membership-led grassroots Filipino migrant workers organization in the US. In 2004, at the age of 23, Ana Liza became the co-founder of the NY/NJ youth-based organization, Ugnayan ng mga Anak ng Bayan (Liking the Children of the Motherland). From the classroom to the streets, she has been committed to the fight for Filipino, women, worker, youth, and queer social justice issues. She has been molded and tempered by the strength, humility, courage, and fighting spirit of the Filipino people and in their struggle for justice, dignity, self-determination and genuine liberation. She hopes to utilize her 10 years of experience in community organizing towards deepening and strengthening Ugnayan's grassroots foundation.
Glenn G. Gapultos
Name: Glenn G. Gapultos
Employer, Title: AOL Studios, Senior Editor
Ethnicity: Filipino-American
Gender: Male
After his acceptance into medical school, Glenn Gapultos decided to pass the time until the term began by taking a film editing course in New York City. Upon completion he was offered a job and never looked back. Born and raised in Alabama, this southern transplant has worked as a film editor in New York for over 6 years. He was a senior editor at MLB.com and now works as a senior editor at AOL Studios. Some of his notable works include "SPORTS FAN" a documentary produced by Jon Stewart that aired on SPIKE TV and "Baseball Discovered," which aired on the MLB Network. As the Media and Publicity Officer on the Board, he documents the organization events through photography. Glenn also uses his technical experience to produce documentaries and professional graded promotional videos. His documentary Justice for Adriane gained hundreds of support for the Justice for Adriane Campaign in Ugnayan's fight against the exploitation of a Filipina restaurant worker. His latest project is the promotional video of the Philippines 101 workshop series, which is set for college campus distribution.
Brandon Hogstad
Name: Brandon Hogstad
Employer, Title: Mount Sinai Graduate School of Biological Sciences, Ph.D. Candidate
Ethnicity: Filipino/Norwegian-American
Gender: Male
Brandon Hogstad currently is a second-year Ph.D. student training in the laboratory of Dr. Miriam Merad at Mount Sinai Hospital. His laboratory studies the regulation of the immune system and how it can be activated to fight cancers or infectious pathogens, or how it can be dampened to prevent autoimmunity and allergies. Outside of his studies, Brandon is the Education for Action Officer in Ugnayan, where he helps develop and execute progressive curriculum designed to engage Filipino youth. The organization's classes and workshops (i.e., Philippines 101 series & Filipino Cooking 101) challenge Filipino youth to critically analyze Filipino history and current events while also celebrating the heritage (e.g., food, music, arts, and, dance.) His skills as a scientific researcher complement his organizing with Ugnayan because Brandon is trained to think creatively about how to analyze situations from various angles. Growing up as a biracial kid in California, he never had the opportunity to learn about Filipino history in school, and he always felt conflicted about his Filipino identity. Through moving to NYC and getting involved with Ugnayan, he learned about the Filipino waves of migration and his mother country's history of foreign domination and imperialism.
Rose Isaguirre
Name: Rose Isaguirre
Employer, Title: N/A, Student
Ethnicity: Filipina
Gender: Female
The third eldest of six children, Rose Isaguirre, left the Philippines in 2008 with a Bachelor of Arts degree in Marketing and a hope to find better economic opportunities to put her three three younger siblings through school and pay for her parents' rising medical bills. She courageously left her entire family at the age of 20, and took her chances in the US where she anticipated earning four times the amount she earned while working magazine company in the Philippines. With a cheerful, caring and compassionate personality, Rose is a fulltime domestic worker, providing childcare for a couple Upper West Side families. She committed her limited free time as Ugnayan's Membership Building Officer after understanding that the organization's mission is in line with her life's purpose–to serve the marginalized sectors of the community, including undocumented im/migrants, trafficked domestic workers, Filipino WWII veterans denied full recognition and youth who have limited access to education. Rose is proud of the base building, facilitation and critical thinking skills she is able to contribute towards the growth of Ugnayan. She is confident that systemic change can be achieved through community organizing and collective work.
Mai-Len Kennedy
Name: Mai-Len Kennedy
Employer, Title: Program Coordinator, BuildOn
Ethnicity: Filipino/Irish-American
Gender: Female
Adriane Padilla
Name: Adriane Padilla
Employer, Title: Mr. and Mrs. Stone, Domestic Worker
Ethnicity: Filipino
Gender: Female
Adriane is the Finance Officer who maintains financial records, analyzes the program budget, and prepares quarterly reports for the Board of Directors to assess Ugnayan's funds and expenses. She is passionate about Ugnayan because the members inspired her to be involved in the community and to become an advocate for young restaurant workers. Ugnayan supports her struggle for justice and continues to fight for those who are oppressed. She is forever thankful for Ugnayan for what they have done for her and is honored be a part of the Board.
Marlene A. Paez
Name : Marlene A. Paez
Employer, Title: Freelance, Event Management Consultant
Ethnicity: Filipina-American
Gender: Female
Marlene A. Paez is a Chicago native who oversees facets of special events management and coordination for a variety of nonprofit organizations in New York. From large galas to donor cultivations, her expertise in event production include ROI analysis, host committee development, conceptual design, and the execution of logistics. Her clients represent advocates of human rights, the performance arts, and international health care. She excels at connecting and building relationships with industry representatives and corporate sponsors. With a B.A. in Sociology from UW-Madison and certification in Sustainable Design Entrepreneurship from the Fashion Institute of Technology, Marlene's passion for grassroots organizing, multiculturalism, and eco-conscious solutions inspires her work. Her latest collaboration is the Sustainable Fashion Meets Sustainable Communities Project – a benefit auction in which sustainable designers created unique pieces to support vulnerable Asian communities in NYC. As the Fundraising Resource Officer of Ugnayan, Marlene adheres to best practices that sustain resources to advance the cultural education, strategic action planning, and base building of the NY-NJ Filipino youth. She implements her skills to improve the organization's financial infrastructure and streamline program management. Marlene also enjoys facilitating Ugnayan workshops in Philippine history and leadership as well
Lindsay Poulakos
Name: Lindsay Poulakos
Employer, Title: Student, Brooklyn College
Ethnicity: Filipino/Greek-American
Gender: Female
Edward Unay
Name: Edward Unay
Employer, Title: Freelance Audio Engineer, Biomedical Engineering Student, Publicity Officer
Ethnicity: Filipino-American
Gender: Male
Chevy Evangelista
Name: Chevy Evangelista
Employer, Title: Dental Technician, Development Officer
Ethnicity: Filipino
Gender: Male