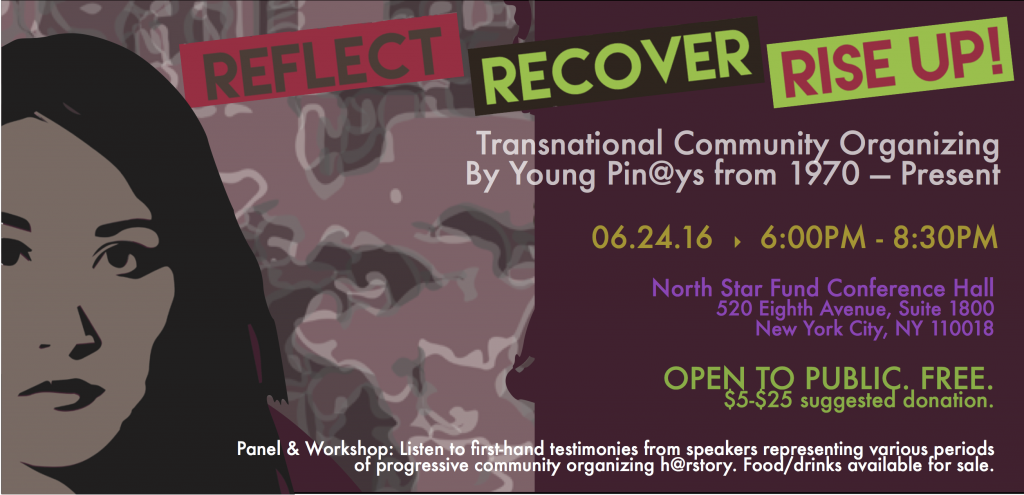 Young Filipinos have been and continue to be a powerful force in fighting for social change. We have led movements to challenge discrimination, racism, sexism, inequality, human rights violations, dictatorships, plunder and war. We have come together to build communities, organizations and alliances to transform society towards a vision of justice that every person and living thing deserves.
But how many of us are connected to the stories, women, immigrants, US-born, LGBTQ, and young people survivors who have led these movements? Listen to first-hand testimonies from speakers representing various periods of progressive community organizing h@rstory. What victories and challenges have young people leading these movements faced? What lessons have we learned in the last 50 years? What remains to be done? How can we support young Filipinos to lead strong movements for justice? Participants will be engaged in an interactive workshop as we reflect, recover and rise up to meet the call of our time!
Panel Speakers:
Mel Lagasca, Stockton, CA

Ermena Vinluan and Estella Habal, Bay Area, CA

Ging Mascarenas, Chicago, IL

Leah Obias, New York City
* This is a trans-inclusive and intergenerational event.

 

Attendees must uphold community agreements. 
RSVP is requested. Email rsvp[@]ugnayanyouth.org.
Filipino food will be available for purchase from 6:00pm – 6:30pm.